REGISTER
register online with us now and easily authenticate your pharmacy refill account. register now »
REVIEW
review your prescriptions, research drug information and see how long your prescriptions are valid for.
REFILL
send in your request online. save time and have your prescriptions ready when you arrive.
SECURE
All your prescription and profile information is delivered through security standard 128bit encryption.
Click the 'Register' button in the top bar to create your account

Once you have logged in a 'Prescriptions' menu item will appear in the top menu bar where you can find your prescriptions and request refills.
Happy Halloween From The Pharmacy Crew!
It is our commitment to provide you with exceptional service both in the pharmacy and online.
We are pleased to announce that you can now access your prescriptions online - 24/7!
What does that mean to you?
No need to wait in lines to refill your prescriptions.
View and refill your prescriptions in the comfort of your home or office.
How much does it cost?
Absolutely FREE!
How do I get started?
Click on Register and begin the registration process. It's just that easy!
Serving Grants Pass since 1933.
Family Owned and Operated
Caring for Generations of Southern Oregon Families

Counseling and Care You Can Trust

Step Back to Yesteryear and Enjoy Our Historic Soda Fountain
Free Delivery within Grants Pass City Limits!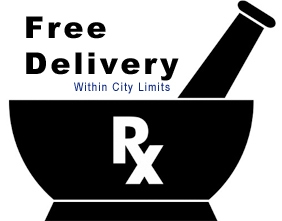 Our Hours
Open Monday through Friday
9:00 a.m. - 7:00 p.m.
Saturday
9:00 a.m. - 6:00 p.m.
Sunday - Closed
We love to hear from you!
Address: 414 SW 6th St.
Grants Pass, OR 97526

Telephone: (541) 476 - 4262
FAX: (541) 474 - 1443
E-mail: Michele@grantspasspharmacy.com